ASPEEC Association de Soins Palliatifs pour l'Europe de l'Est et Centrale


Gyula Wárkonyi painter-artist
Gyula Wárkonyi was born on December 31st, 1947, in Szeged. Szeged is only his birth place, as his family lived in the village Sándorfalva. His father was a master blacksmith, his mother has brought up five children. Gyula being the second of them. He is the member of a humble and poor family, who spent the whole of his youth in Sándorfalva, in beautiful Little Cumania.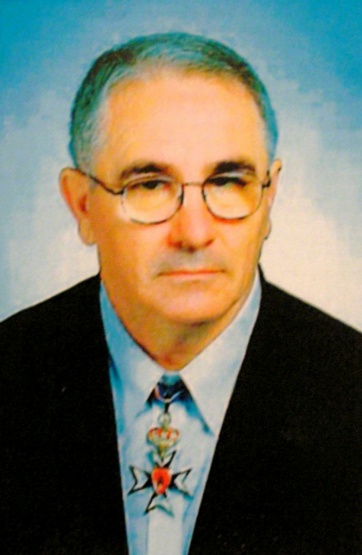 Little Cumania (Kiskunság) is one of the loveliest and most colorful parts of the Great Hungarian Plain. It has a rich flora and fauna, and a versatile population. It is the native land of silent peasants, tough herdsman, rangeman and reckless highwaymen. All this had hit lively and precocious child's fancy, and he tried to picture what he had seen, with hisplendid draughtsmanship.
The smithy is the everyday meeting-place of the peasants of the Plain. Hanging around the place, the child scampers about, helps his father poke up the fire, or with his odd-later on more serious-jobs day by day. The boy busies himself with horses, takes part in shoeing them as well as in repairing wagons, ploughs, harrows and other instruments. Meanwhile he keeps on listening to the never ending talk of people about their everyday life and the way of the world. A peculiar world conception is taking place in his mind: the poor people's simple and essential way of looking at things, and the awareness that one has to work hard in order to earn one's livelihood.
Vulcan's workshop is a hard school even for adults. It is not without its dangers to be between a fiery foundry and kicking horses. Gyula Wárkonyi not only saw but lived the life of the poor as well. He would romp in the dust and clap his hands after heavy showers together with the other children, and when he engaged himself as a herdsman, he shivered with cold in the early morning frost-bitten pastures, just like any other herdsman. Still, he does not think of his childhood bitterly, as is obvious from his poems. For he, being a man full of rhythm and harmony, sometimes writes poems, too.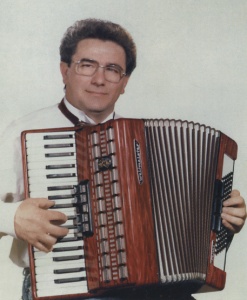 His talent for music also manifested itself quite early. In 1959 his father bought him a piano accordion, which accompanied him everywhere, from that time on. He became a musician and earned his living an accordion player. Now he plays other, more serious instruments as well, even if he has never had the possibility of going to a school of music.
His draughtsmanship had been noticed by his teachers in the primary school. The drawing-teacher István Lakatos, and his wife were his first masters, who called his parents' attention to the child's talent and suggested that the boy should continue studies. The parents' financial and social conditions, however, prevented him from further studies. His father was rather unwell, especially after the war, and the large family needed money at whatever cost. Guyana helped to get some by all means. Poverty sometimes makes even children resourceful. He would make music at wedding-feasts and gatherings, draw and paint for neighbours and acquaintances at little cost, engage himself as a herdsman. He has been contributing all his earnings to the household budget ever since.
In the middle of the 60's he wanted to learn a trade, and became an industrial apprencite in Szeged. There, the painter-artist Károly Vlasits, who enjoyed a high reputation, began to patronize him. Vlasits was the head of an artist's circle at that time. He taught the gifted young boy how to draw and how to copy plaster figures. Wárkonyi, a born peasant genius, kept away from the trends of surrealism and cubism during his development, and has been reluctant to follow any "isms" since then. He studied anatomy through the shaping of plaster figures. His master was a strict, taciturn man, who would only scold and never praise. Nevertheless, it was obvious from his affectionate way of teaching that he took the comprehensive training of his apprentice seriously. Little by little, Gyula had learned how to use the pencil, and became interested, in the secrets of brushwork. He was afraid of his master, and had an affection for him at the same time. The thin, short, skinny man seemed to control his pupils with his eyes.
Gyula had been taught by him for three years when the master died. The semi-trained youth was deeply afflicted, so much the more that the other painters in Szeged did not undertake to teach him.
Then he began going to museums and exhibitions. Not finishing the industrial school, he became a musician as he had to make a living somehow. By night he would make music, by day go to exhibitions, paint, train himself, and relax if there was any time left. There usually was not too much to spare.
In 1968, he definitely moved to Szeged where he met his second master, Sándor Siha, who strengthened his with to paint and to become an acknowledged artist working not just for money but in order to spread and pass on the beauty he had accumulated.
Sándor Siha was not a great artist but he was able to familiarize his pupils with the great ones. He would speak about their works, lives, struggles, their worlds of colours and shapes, the knacks of brushwork, tints, tones and everything that is necessery for an apprentice of painting to make progress. He looked on Gyula's pieces of work with a critical eye, and called his attention to his mistakes. Sometimes he made him elaborate a picture several times or repaint it in different variations. He showed him how to decípt rivers, lakes and the sky. He made him see how much is hidden in their relations to one another. In Gyula's pictures were nets and fish traps, magnificent sunsets alternated with radiant dawns. Bit by bit, he began to find out how many possibilities are concealed in the proper presentation of these alone.
During the same year he organized his first independent exhibition in Pusztamérges, which was opened by the late painter-artist from Hódmezővásárhely, Zoltán Fürtös. His and the physician painter Dr. Árpád Bod's suggestions gave the 21 year old youth an exceptional stimulus. Of course, he was not perfect yet. But he was making considerable progress along the path he had set out on. And it was not easy without a flat and a studio of his own, with no benefactors around. But slowly one can get far. He was admitted to circle of fine arts working in the Club of Armed Forces in Szeged. There, at last, he was able to continue studies under an adequate artistic guidance, without having to deviate from hid original line. After having participated in several exhibitions of the circle. In 1977 he appeared at the Szeged Winter exhibition with his painting "Trees".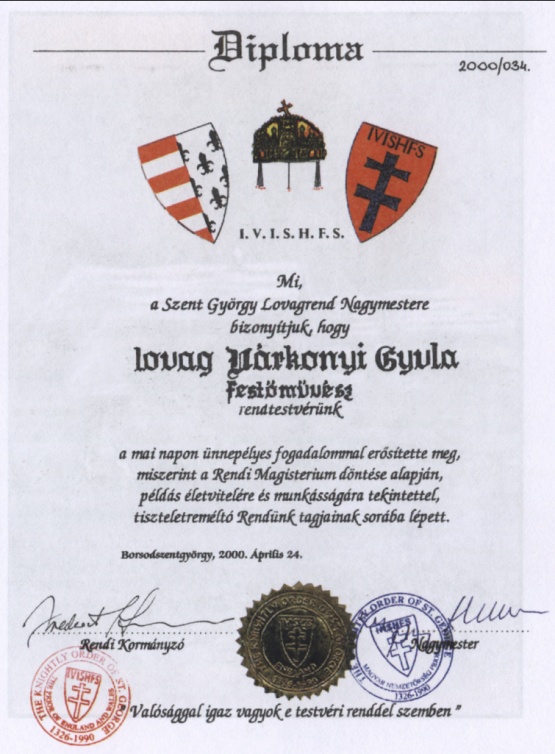 In 1978, he achieved considerable results in a creators' camp organized in Geszt, earning the appreciation of not only the local people but the municipal council as well. The creators' camp worked under the direction of the painter József Nyári. In the Club of Armed Forces, Wárkonyi's artistic instructor was László Zombori, a painter-artist from Szeged, who proved to be a strict critic and a master with a strong hand. In the circle of fine arts Wárkonyi had an opportunity to get acquainted with the "great ones" in Szeged: István Dér, Sándor Fontos, the art painter-artist Csaba Fejér, and many others, from whom he could get useful advice and directives.
From that time on he would regularly take part in the exhibitions of the circle, gradually changing over to organizing his own exhibitions. His paintings are richly coloured and vivid, his way of looking at things is exceptional, his mode of expression is gorgeous. One might put it as "variations on a theme".
This theme, however, is inexhaustible: the infinite quietude of the landscape in the Great Hungarian Plain, the disappearing world of scattered farms, the experience of childhood, the peasants returning home from work. He not only saw but experienced it as well. He knows what it means to sow by hand, how the hoers trudge home at dawn, how the scythe-man moves at harvest time, how the digger's shoulders sink under the weight of the wheelbarrow, how the mother bends over her child. The dead trees, the drought-stricken fields are parts of him as well as winter woods or the willows of the lake shore. He is happy in being born and brought up here, being able to see and experience this all, and to pass it on in ravishing pictures.
There is no need for Gyula Wárkonyi to see the landscape he wants to depict. The pictures come from his soul, for he still lives with the village where he was brought up. He feels that he will never be able to give back everything he got from his native land. His work and his exhibitions are appreciated by the local and nationwide press alike. Articles regularly appear about him in the newspapers "Délmagyarország" and "Szövetkezeti Híradó". His exhibitions are opened by writers, poets and artists. The writer Imre Balázs has devoted a poem to one of his exhibitions.
Wárkonyi has been advised to break away from the past, and live in the present, to look around, for there is enough to see, to say and to express here as well. That is why he began to learn how to paint portraits. He is not going to break away from the past, however. In his paintings it still can be felt where he started from and what is intended to be understood by the man of the present. He must see what the lank game-keeper, the herdsman pondering by the fire, the teenager girl washing her clothes in shabby basin, the young bride adjusting her wreath, are like.
In 1980, the "Szövetkezeti Híradó" referred to Wárkonyi's unfavourable circumstances: they had been living in lodgings with their baby, though the allocation of a flat to them had long been overdue. There had been no changes in the painter's life: making music at night, sometimes up to a nervous breakdown.
He is an exceptionally fruitful painter, having several exhibitions every year. The "Szövetkezeti Híradó" once called this a hobby but it is not: it is a vocation. During the same year – 1980 – he won the second prize in a competition for the cultural institutions of the Hungarian People's Army.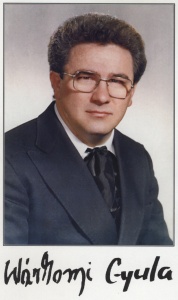 In 1981, he was again mentioned in the "Szövetkezeti Híradó" as a musician and a painter, an expert in both these arts. The real success, however, had not come until 1983, when he was awarded the first prize in an exhibition of amateur artists in Budapest. His prize-winning paintings were: "Trout-fly pickers", "Tramps", "Spreading of clothes", "Winter". Wárkonyi got his flat only in 1983, but with only two rooms.
One was used as a very small studio, the other was the living-room of the family, which then consisted of four members. Nevertheless, he kept on working and creating with undiminished energy. In September, 1985, he finally managed to open his painting-school for children between 8 and 10 years of age, in the Club of Armed Forces. He was extremely pleased with the possibility of teaching.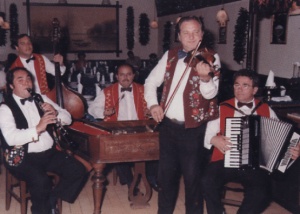 Gyula Wárkonyi is a man of a transitional age, who was being brought to decline. He could see the lonely man in hid dilapidated hut, the roofs that needed, thatching, the empty sties, shaky draw-wells, dead trees and the aged population that stayed there. He now has to say good-bye to that age, but he is doing it with a heavy heart. There is nothing an artist can do against all that except for showing the world what he had been, where we had come from, how far our roots reach. And we do believe that this painter will get from the Brook to the Ocean, to use the great Hungarian poet, Endre Ady's words.
The first step towards the Ocean has been taken: in November, 1985, Gyula Wárkonyi was awarded the first prize at the Festival of Fine Arts in Hamburg, West Germany.